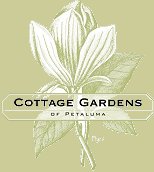 Be aware that prices can change as steel prices fluctuate. If concerned, be sure to call to check on the price of your chosen item..
(707)778-8025
ARBORS, TRELLISES, TOPIARY....

At Cottage Gardens of Petaluma!


Radius Top Trellis

Flat Top Trellises

Window Boxes

Small: 2'H x 16"W w/8" shelf $50
Large: 3'H x 2'W w/8" shelf $75

Obelisks

Large - $60,
Small - $50

Rusty Metal Spheres

Small - 10" - $18
Medium - 14" - $22
Large - 18" - $24
Extra Large - 24" - $30

Swirl - $55

Arbors

Large - $230


Medium - $170
Small - $140

Other Trellises too!

This is a Hanging Basket

Trellis - $90

Tri-fold Trellis - $265

Topiary Forms

Lots to choose from!

Plant-Pot Stands!!

3 heights, 3 widths, great prices - $38 to $42

For up to date news from Cottage, check out our facebook page!

American made steel becomes a trellis, an arbor or an art piece at the hands of the designers at Artisan Trellis in
El Dorado Hills, CA.

Simple, functional, beautiful.

These are just SOME of what we have here! Come on in and check out our full selection!


Not finding exactly what you need? Custom orders can be done during quieter times of the year. Get in touch with us at Cottage Gardens and see how we can help make your garden project come to life!