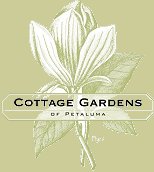 This month in your garden...

January: A quiet month in the garden, January's gardening chores in Northern California include pruning deciduous fruit trees, roses and grapes, plus your deciduous flowering vines including Clematis. Be sure to clean up well, removing any debris that might harbor fungal spores or insect eggs. Spray your roses at this time (if you choose to) using environmentally friendly products wherever possible, being sure to follow the label's instructions, and give them their first feeding of the year with a well-balanced fertilizer to get them off to a great start. EB Stones Organic Rose Food is an environmentally friendly, highly effective, time release food for your roses. Epsom salts can be added at this time if your soil has magnesium deficiencies.
If you're growing peaches or nectarines, give them another spray with a copper-based fungicide to help combat Peach Leaf Curl.
Monitor for slug, snail and other garden pest activity and take appropriate action if needed. We LOVE Sluggo and Sluggo Plus!!
Continue to be ready to protect your succulents, Citrus trees or tender perennials from frost damage. Frost cloth is the most effective way to protect your plants and should be draped ABOVE and over your plant (we use an ingenious bamboo stake/tennis ball combo). An anti-transpiration spray such as Wilt Stop can be used on less tender plants.
Plant roses and bare-root fruit trees now while the choices are most plentiful - don't leave it too late to get the best selections possible! We've got all our fruit trees and roses in (January 20th) and they're looking great!
The rainier days are perfect for garden daydreaming, planning ahead, browsing catalogs and shopping for seeds or bulbs for summer blooming beauties. Also ideal for sharpening, oiling and, if needed, replacing your garden tools to be ready for the upcoming gardening year!

February is the month for cutting back your woody shrubs and perennials. Lavenders, woody Salvias, Lavateras, Fuchsias, Buddleias and Abutilons all benefit from hard pruning which will stimulate fresh new growth and guarantee abundant blooms in the months ahead. Follow up with fertilizing with a well-balanced, fertilizer, using organic fertilizers wherever possible to help encourage a healthy garden ecosystem. We love EB Stone's Organics All Purpose fertilizer for this very reason!
Cut back - to 3-4" from ground level - deciduous ornamental grasses and perennials now too. Many perennials - Penstemon, Perovskia, Nepeta and Heucheras for example, do well with hard pruning and would also appreciate feeding at this time.
Feed your citrus trees! A dose of chelated Iron in February benefits most citrus at this time - especially if you observe green veining in yellow leaves - plus be sure to fertilize with a good time release, higher in Nitrogen fertilizer such as EB Stone's 7-3-3 Citrus & Fruit Tree Food.
Continue to keep an eye on the weather and be ready to protect your frost tender plants if needed.
In the edible garden, plant bare-root Asparagus, berries, horseradish and rhubarb out now, and direct seed beets, carrots, peas, chard and spinach. Be sure to amend your garden beds well - both ornamental and edible - every time you plant! We really love Soil Booster from Greenall - a highly nutritious compost blend - for soil enriching every time you plant! The addition of EB Stone's Organic Sure Start is frosting on the cake for your young plants!
MARCH
Feed and prune if needed all your Camellias, rhododendrons and azaleas once they're finished blooming. We LOVE either the acid formulation of Maxsea or EB Stones Organics granular fertilizer made specially for these acid lovers.
Fertilize your lawn with a high nitrogen fertilizer specifically formulated for turf.
In the edible garden, enrich your soil with a good compost or manure blend (Soil Booster is our go-to, Mango Mulch is extra rich and fantastic, and Double Doody definitely has a place in the veggie garden too!) and plant potatoes, greens of all kinds and your annual herbs including parsley, cilantro, dill, chervil.
Continue direct sowing or transplanting cool season vegetables.
Start summer vegetable seedlings indoors.

Click HERE to return to our homepage.