Clematis 'Blue Angel'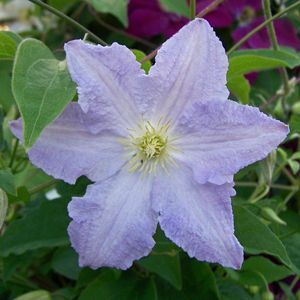 Gorgeous sky-blue flowers measure 4-6 inches across. Flowers are a shade paler along the center and darker along the wavy edge - creating an intriguing, veined look. Stamens are a yellow-green that contrasts well with the beautiful blue. Blue Angel was a 1992 Gold Metal winner at Planetarium in Boskoop, Netherlands. A prolificly heavy bloomer and one of the best varieties for inexperienced gardeners. Perfect clambering through roses or up and over an arbor or twining up a lovely trellis.
Bloom Time: Early summer to fall.
Exposure: Sun to part shade. Size: 8-12' high.
Pruning: Prune to 12-18"H in January to a swelling set of buds. Prune back by half after first blooming is finished.

Click HERE to return to our Clematis page.