Wild Blue Yonder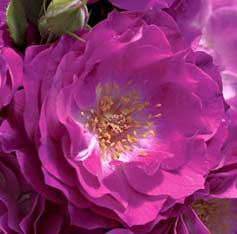 NEW Grandiflora Rose
The first lavender-hued rose to win the AARS award in decades!
There's really no color quite like this! Each ruffled petal is a shade of purple-red highlighted in lavender. Add to its rare coloration a delectable, citrusy sweet aroma plus a generous blooming habit, and you have an exciting and very rewarding addition to your garden. Exceptionally disease-resistant, too!
4'-5' H / 4 1/2" blooms / 25-30 petals / Glossy green foliage / Citrus blossom and rose fragrance
Click HERE to return to our Rose page.