Sugar Moon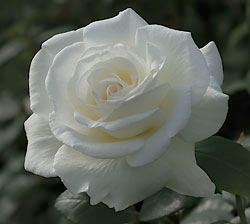 Hybrid Tea
White roses exude elegance, and Sugar Moon includes fragrance with that elegance. Intense perfume! Big pointed buds spiral open to show off broad petals of the purest white you can imagine. Dark-green leaves make the pure white blooms pop all the more. Good rebloom, natural vigor & long cutting stems make this a perfect addition for a cutting garden.
5ft. plus High x 4ft. Wide
This beauty is also available in tree form, on a 3' stem, bringing color to a whole new level in your garden!
Click HERE to return to our Rose page.