Sugar Moon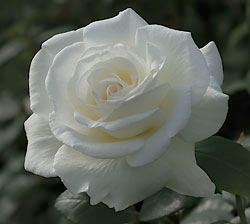 Hybrid Tea
An elegant rose with an intense perfume...
Big pointed buds spiral open to show off broad petals of the most pristine white you can imagine. Dark-green background foliage makes the pure white blooms pop all the more. Good rebloom, natural vigor & long cutting stems make this a perfect addition for a cutting garden.
5ft. plus High x 4ft. Wide
This beauty is also available in tree form, on a 3' stem, bringing color to a whole new level in your garden!
Click HERE to return to our Rose page.