Sedona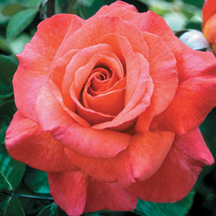 Hybrid Tea
Sedona offers warm, intense color, plus delicious strong old rose and pear fragrance. Its blooms are a vivacious coral-toned blend that unfurl to reveal a multitude of coral, pink and red petals, each layer deepening in color. The unique pear scent this plant offers is unlike any other rose, strong and intoxicating, it is sure to be a standout.
5-6ft. High x 3-4ft. Wide
Click HERE to return to our Rose page.