Scentimental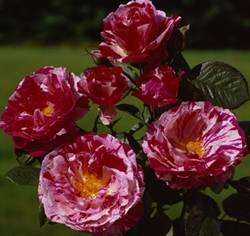 FLORIBUNDA
No two blooms are ever alike on this plant. Unique peppermint-striped petals surround the golden stamens and emit a deliciously spicy fragrance. An unusual bloom for either your garden or your bouquet!!
Medium, rounded in growth habit with semi-glossy medium green foliage making the perfect backdrop for the extremely fragrant blooms. Excellent disease resistance completes this wonderful package. A winner in bush or tree form and a must have for your garden!
This beauty is also available in tree form, on a 3' stem, bringing color to a whole new level in your garden!
Click HERE to return to our Rose page.