Henry Fonda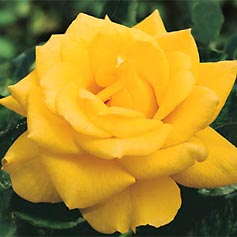 HYBRID TEA
Distinctive, large, deep yellow blooms pay tribute to a remarkable actor.
Rich yellow blossoms are complemented by clean, deep green foliage cover this very vigorous plant all season. The luminous long-stemmed roses will brighten every floral arrangement.
Height to 4'. Pointed, ovoid buds. 4 1/2" yellow blooms with 20-25 petals on 10"-15" stems. Glossy, dark green foliage. Light, sweet fragrance.


Click HERE to return to our Rose page.