Fourth of July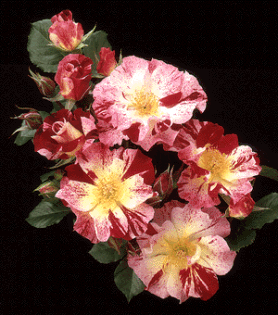 Climber
Bursts into bloom with spice-scented, carefree color. With the brilliance of fireworks, this rose produces bountiful clusters of candy cane-striped blooms that fill the air with a fresh apple and tea rose scent. This rose was the first climber in 23 years to win top All-America Rose Selections honors in 1999!
10'-14' high. Red and white striped, long, pointed buds. 3"-4" blooms with 10-16 petals. Glossy, dark green foliage. Sweet, apple fragrance.
Click HERE to return to our Rose page.