Dick Clark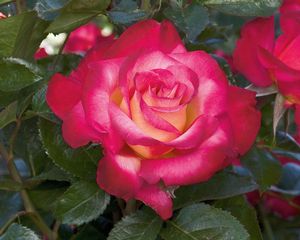 Hybrid Tea
Dick Clark™, the 2011 AARS winner from Weeks Roses, displays ever changing flowers. Flowers unfold as swirls of cream edged with vibrant cherry pink. The petals age to burgundy with the intensite of the sun, and finally finish deep red. The classic flowers or Dick Clark™ smell of cinnamon spice and are formed on sturdy long stems perfect for cutting.
5ft. High x 3-4ft. Wide
Click HERE to return to our Rose page.