Dark Night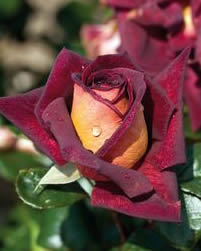 Hybrid Tea
If you love Double Delight, you'll adore Dark Night!!
A new well tested novel rose for the West Coast, Dark Night™ has held up to thorough trials and has proven to perform well on its own roots. The color is dark velvet red, almost black, with a cream yellow reverse. The flower form is classic with a high centered bud and a cuplike opening.
5-6ft. High x 5ft. Wide
Click HERE to return to our Rose page.