Cherry Parfait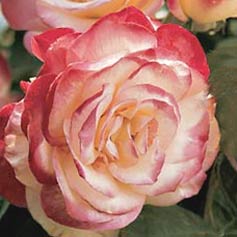 Deliciously different coloring makes this alluring, 2003 AARS winner a pure garden delight. As luscious as its name suggests! This rose produces generous sprays of blossoms, enough to indulge any rose-lover's appetite. And the cherry-and-cream-toned blooms hold their tantalizing color throughout the heat of summer. Makes an eye-catching companion for lavender, hydrangeas or lilacs. Exclusive.
5' high with white edged with red, pointed buds. 4" blooms with 35 petals and 10"-14" stems. Glossy, dark green foliage and a light, sweet fragrance. Also available in tree form!

Click HERE to return to our Rose page.