Bella'roma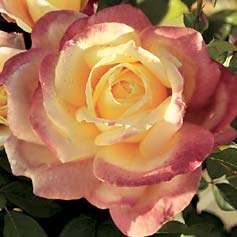 Hybrid Tea
This voluptuous, romantic beauty captured our hearts, and it's sure to win yours. Bright buds slowly spiral open to reveal warm yellow petals with soft pink edges that deepen in tone over time. The incomparable blooms are made doubly enchanting by an irresistible, heady fragrance. And you'll have plenty of them, because this rose flowers plentifully all season.
4'-5' High. Yellow with pink edging. Pointed, ovoid buds. 4"-5" blooms with 30 petals. 16"-18" stems. Glossy, dark green foliage. Strong, antique-rose fragrance.

Click HERE to return to our Rose page.