Altissimo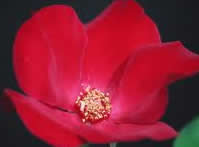 Climber
Long lasting, large single flowers of brillant red will cover walls, trellises and almost any structure you want to accentuate or even hide. Blooms on new and old wood.
We love this rose! This is the beauty growing on our pumphouse here at Cottage Gardens - tall, stately, upright canes with deep brilliant red single blooms covering it from head to toe. Blooms pretty much non-stop, and is then followed by glorious rose hips! Great disease resistance. Use against buildings or garden walls, or train over a strong trellis or arbor.
Click HERE to return to our Rose page.