Clematis 'Multi Blue'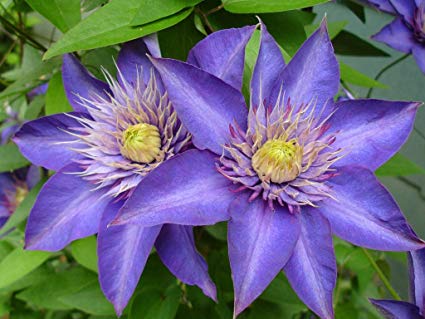 Early Large Flowering
Dark violet blue-purple with a stunning double center that looks like a sea anemone!
Bloom Time: Spring and again in fall.
Exposure: Part shade. Morning or filtered sun.
Pruning: None required, however you get better results and a lot more blooms if you do the following: First year — in late January/early February, cut to 6-10" from ground level to a pair of buds. Then cut by half after the first flush of blooms is finished. Second year & beyond; late winter cut is to 18" from ground level and continue with the summer pruning by half to produce the second flush of stunning blooms. Feed after each pruning session with well-balanced fertilizer.
Size: 8-10' Tall.
Click HERE to return to our Clematis page.