Clematis montana 'Rubens'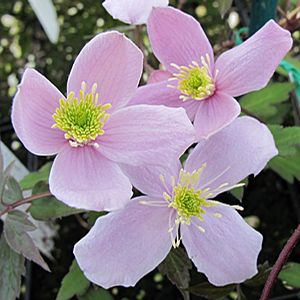 Description: Wonderful summer color from sweetly fragrant, anemone-like flowers. Quick growing vine for use on arbors. New growth has purplish coloring, maturing to bronzy-green. Deciduous.
Bloom Time: Spring to early fall.
Exposure: Sun to part shade.
Size: To 30' high.
Pruning: Prune lightly after flowering, only if needed.
Click HERE to return to our Clematis page.