Clematis 'Guernsey Cream'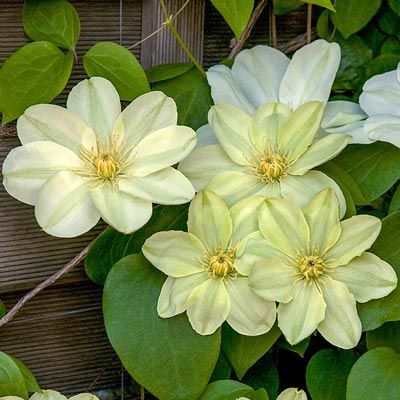 Description: Stunning & immense 6-8" flowers, palest butter cream with an almost green bar down the center of each petal. A gorgeous grower, and extremely generous bloomer.
Exposure: Part shade. Filtered or morning sun. OK
Size: 6-8' Tall Bloom Time: Blooms late May-early June and again in fall if pruned correctly. Pruning : The first year, prune back hard and low—around 6-8" from the ground—to encourage multiple branches. With age, remove any dead or weak stems in late winter/early spring & cut remaining stems back to the highest pair of strong-growing buds right around 24". Feed with a well balanced fertilizer at pruning time.
Click HERE to return to our Clematis page.