Clematis 'Duchess of Edinburgh'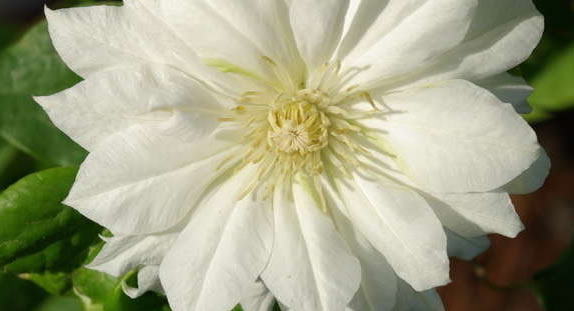 An unstoppable showoff, quickly climbing any arbor or trellis to display huge, snowy white 4-6" double blooms with feathery petals layered on top of each other. A stunner! Size: 8-10' Tall
Exposure: Part shade. Filtered or morning sun fine.
Bloom Time: Blooms in summer and again in fall if pruned correctly.
Pruning : The first year, prune back hard and low—around 6-8" from the ground—to encourage multiple branches. With age, remove any dead or weak stems in late winter/early spring & cut remaining stems back to the highest pair of strong-growing buds right around 24". Feed with a well balanced fertilizer at pruning time.
Click HERE to return to our Clematis page.