Dorothy Tolliver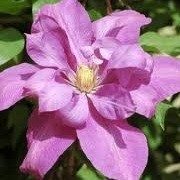 Large Flowering Cultivar
Description: A cross between a couple of our favorites! Vyvyan Pennell and Niobe has produced this lovely deep mauve beauty..
Big, 6" ruffly blooms are produced in abundance beginning in late spring. The early blooms are often semi-double, but as the season progresses, more single blooms than doubles will appear on this twining vine. A stunner meandering through a climbing rose, along a fence line or over a shady pergola..
Bloom Time: Late Spring and again in Fall.
Size: 8-12' tall.
Exposure: Part shade preferred. Avoid placing where the the more intense afternoon sun could potentially "cook" the foliage.
Pruning: In late January or early Feburary, cut back to around 2 feet high, to a pair of healthy buds. For a second spectacular flush of blooms, cut back again, by as much as one half after first bloom cycle. Dead-head as necessary to keep clean and tidy.
Click HERE to return to our Clematis page.