Clematis 'Charmaine'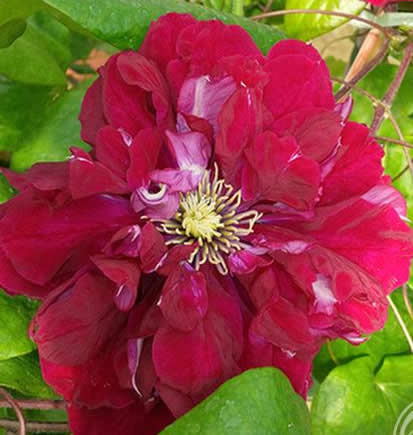 A stunning, more petite variety with big, dark crimson blooms, both fully double and single flowers appearing at the same time on this well-behaved clematis. This is a perfect choice for growing in containers, or out in the landscape climbing a low fence, through a rangy rose bush or on a pretty obelisk. Size: To 4-5' High.
Exposure: Sun to light shade.
Bloom Time : First flush in June. A repeat flush of blooms in fall if you follow the pruning instructions below.
Water: Regular Soil: Well-drained, enriched.
Pruning: In late January/early February, prune back to a pair of buds about 8-12" from soil level. Then after the first flush of blooms is finished, cut back by half. Feed after each pruning session with a well-balanced fertilizer. Sit back and enjoy the show!
Click HERE to return to our Clematis page.