Clematis cartmanii 'Avalanche'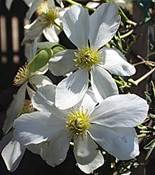 Description: Notice the lacy leaf style which is very distinct compared to other varieties. Blooms in spring with lovely white flowers that have frilly greenish yellow stamens. Does not climb naturally, so stems will need to be tied to a trellis.
Exposure: Part shade. Filtered or morning sun.
Soil: Amend with compost.
Water: Regular.
Size: 7' high.
Click HERE to return to our Clematis page.