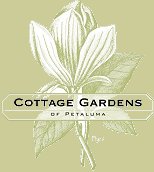 GROW YOUR OWN GOURMET INGREDIENTS!!
Lemony Lemon Verbena Tart with Cape Gooseberry Compote
Pastry
2 cups flour, sifted
1/2 teaspoon cinnamon
1 cup finely ground almonds or almond meal
2 sticks unsalted butter, softened
3/4 cup sugar
1 large egg
1/2 teaspoon pure vanilla extract
Finely grated zest of 1/2 Meyer lemon
Finely grated zest of 1/2 orange
Lemon Curd Filling
4 extra-large egg yolks
3 extra-large eggs
1 cup
1 cup fresh Meyer lemon juice
1/2 cup dried lemon verbena leaves or 6 fresh lemon verbena leaves
1 stick plus 2 tablespoons cold unsalted butter, cut into tablespoons
Salt
Cape Gooseberry Compote and Garnish
1 1/2 cups water
1 cup sugar
2/3 cup fresh orange juice
½ tsp vanilla
1/4 cup favorite orange liqueur (Grand Marnier)
6 cups cape gooseberries
1/4 teaspoon freshly ground pepper
Lightly sweetened whipped cream and fresh lemon verbena, for serving
In a medium bowl, stir the flour with the cinnamon and ground almonds. In another medium bowl, using an electric mixer, beat the butter and sugar at high speed until light and fluffy, about 2 minutes. Beat in the egg, then beat in the vanilla and lemon and orange zests. Beat in the dry ingredients in 3 batches until almost incorporated. With a rubber spatula, stir the pastry until thoroughly combined. Divide the pastry in half, pat into 2 disks and wrap in plastic. Refrigerate one disk for 1 hour, until firm. Freeze the other disk for another use.
Preheat the oven to 325°. Roll out the chilled pastry between 2 sheets of heavy-duty plastic wrap to a 12-inch round. Chill until firm. Unwrap the pastry and press it into the bottom and up the side of a 10 1/2-inch fluted tart pan with a removable bottom. Refrigerate for about 15 minutes, until firm. Line the pastry with foil and fill the pan with pie weights or dried beans. Bake the pastry for about 45 minutes, until browned around the edges. Remove the foil and weights and bake the tart shell for about 25 minutes longer, until crisp on the bottom. Transfer to a rack and let cool.
In a large, heavy saucepan, whisk the egg yolks and whole eggs with the sugar, lemon juice and lemon verbena leaves. Cook over moderate heat, whisking constantly, until hot and thickened, about 5 minutes. Remove from the heat and whisk in the butter, 1 tablespoon at a time, until blended. Add a pinch of salt. Strain the curd through a sieve set over a bowl. Pour the curd into the tart shell and smooth the surface. Refrigerate until firm, about 2 hours.
In a medium saucepan, whisk together the water, sugar, orange juice, Grand Marnier and vanilla and bring to a boil. Add the cape gooseberries and simmer over moderately high heat, stirring gently, until the berries are soft, about 5 minutes. Stir in the pepper and let cool to room temperature.
Cut the tart into wedges. Spoon the cape gooseberry compote around the tart. Serve with whipped cream and a little garnish of fresh lemon verbena leaves.
Enjoy!!